Guerilla Architects
Guerilla Architects is a multi-disciplinary collective focusing on societal constraints and subversive architectural transformations. Their work overlaps with socially-engaged art projects in its interest in dialogue, collaboration and direct work with the community.
Being "guerilla" is their approach to urban development. They do not believe that one has to build big to create large value. On the contrary, working with existing structures, it often requires just minimal invasive interventions in order to give new meaning to former invisible spaces: Guerilla Architects draw on the untapped potential – the free resources – from the abundance and overproduction of urban society.
Guerilla Architects was founded in 2012 in London in the context of a squatting experience: as founding project (Hidden Borough), they have explored the real estate market in London through performances in public space. Occupying an abandoned warehouse, making it accessible to the public and bringing it back to the awareness of the neighborhood was the starting point of the project. Since then they have questioned political, legal, architectural and urban spaces. The aim and methodology of the group is to rethink and make use of grey areas in order to reinterpret spaces.
With their mobile office in a converted caravan (Bastian, the Stadt:Symbiont) they are always on site: through the laws of public parking regulations, Stadt:Symbiont serves as a guide for the autonomous creation of a central, permanent and cost-effective working space. They understand the city itself as an existing network of different infrastructures that anyone can use.
In their latest research (1km² Berlin – Strategien der Spekulation) Guerilla Architects focus on contemporary strategies of real estate speculation in Berlin. Through they research on the facts and figures of the market and the resulting changes in the built space, they have been able to identify mechanisms and networks that are otherwise hidden to the public. They test the boundaries and production methods of various disciplines, work site-specifically, use performative actions in (public) space and immersive forms of urban exploration.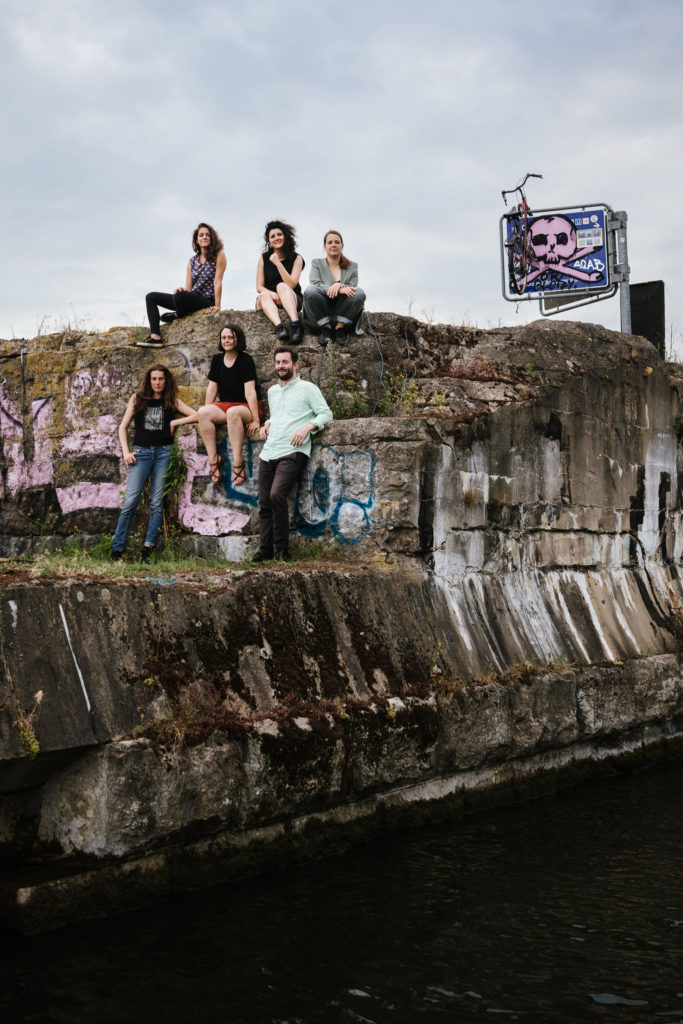 Team
Anja Fritz, Silvia Gioberti, Nike Kraft, Shahrzad Rahmani, Philine Schneider, Benedikt Stoll
associates: Tobias Hattendorff, Denica Indzhova
former members:
Sophie Fetten, Henriette Lütcke, Lucie Waschke, Eric Zapel
Collaborators
Alicia Agustín, Emil Angelov, Peter Behrbohm, Benoit Bovis, Özcan Ertek, Alexis Facca, Basil Fayad, Sami Haddaji, Edwar Hanna, Ramona Heiligensetzer, Wissam Khaled, Helena Knorr, Stephanie Köck, Camille Lacadee, Felipe Lanuza, Richard Le Messurier, Petra Marko, Luca Marinelli, Tabea Mathern, Emilie Peinchaud, Stefanie Pesel, Joanne Pouzenc, Catalina Pollak, Haouika Awâtef Porro, Esther Rizo, Marian Rudhart, Anastasia Sosunova, Natalia Stepanova, Jana Tost, Stephanie Traut, Penny Travlou, Pablo Wendel, Angeliki Zervou
Partners
&beyond, ARCH+, Architecture for Refugees, Caritas Wien, CISR, ConstructLab, CRCLR, Culture Goes Europe e.V., Culinary Misfits, DingsDums, dpr Barcelona, entretempo kitchen gallery, Fläming Kitchen, Foodsharing, Future Architecture Platform, future.lab, Hans Sauer Stiftung, Haus der Architektur Graz, Institut für Widerstand im Postfordismus, ISSSResearch, KunstStoffe, Material Mafia, MikroMakroWelt, Migration Hub Network, On/Off, Restlos Glücklich, Slow Food Youth, Studio Krimm, Sustainable Food Academy, Theater Vorpommern, The Real Junk Food Project Berlin, TU Bühnenbild Szenischer Raum, Universität der Künste Berlin, Urban Transcripts, Über den Tellerrand, Vienna Design Week, ZK/U Berlin